Are you planning your upcoming wedding? Well, if you want a unique place for your ceremony and reception, I highly recommend Tuscany. Having a Tuscany destination wedding is a popular option for many couples thanks to its jaw-dropping scenery and relaxed atmosphere. This ultimate guide will help you get started in planning your dream celebration of love in this beautiful region of Italy.
Why get married in Tuscany?
Besides being one of the most popular tourist destinations in Italy, here in Tuscany, you can visit six World Heritage Sites. This picturesque region also offers a lot of magnificent venues for a luxury destination wedding in Tuscany.
You can opt for Villa Cetinale for your celebration or choose a wedding in Il Borro. A lot of options are available to you in Tuscany. The more you get to know the area, the more extraordinary it becomes. It's just a matter of deciding which wedding venue best suits you!
The Best Venues for a Tuscany Destination Wedding
There are many reasons why couples opt to get married in Tuscany. One of the top reasons is the abundance of exclusive and versatile views. In Tuscany, you can witness mesmerizing vineyards, a romantic countryside sunset, and picturesque rolling hills. Here are some of the best settings for a memorable wedding in Tuscany:
If you are fond of antique elegance combined with modern comforts, then you should consider Villa Cetinale. There's so much romantic ambiance enveloping this villa, from the Roman baroque style architecture within and the oak forest surrounding it. I am certain your guests will be mesmerized by this exceptional wedding venue.
Known for its alluring beauty, organic farm, on-site winery, and delicious gastronomic Tuscan dishes, the wedding venue Il Borro caters to every couple's needs. This is a truly unique location to say your vows! Not to mention, the array of reception options, Il Borro is an impressive venue for your special day.
Nestled on a 2000-hectare estate in the heart of the Brunello di Montalcino wine-making region, you will find the Rosewood Castiglion del Bosco. This ultra-luxury hotel boasts cypress-lined streets and is surrounded by expansive vineyards. It is easy to see why this place makes every couple fall deeper in love with the breathtaking Tuscan scenery.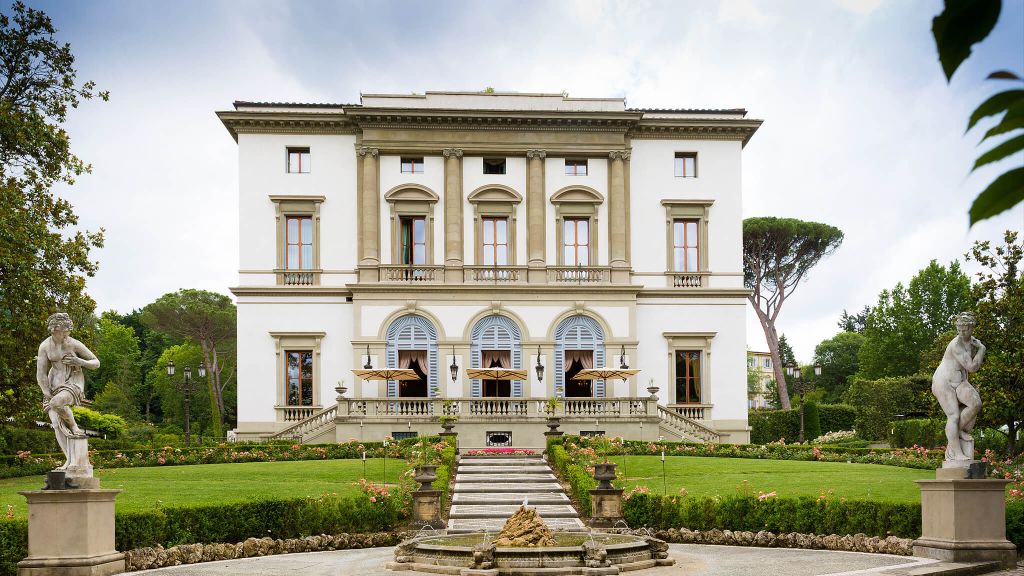 The eclectic decor in this stunning hotel provides a gorgeous backdrop for couples who want an elegant celebration. Villa Cora is located within a centuries-old park where you can enjoy the scenery of the Boboli Gardens. The mere fact that it is just outside the historic center of Florence only adds to the charm of this classic and romantic wedding venue.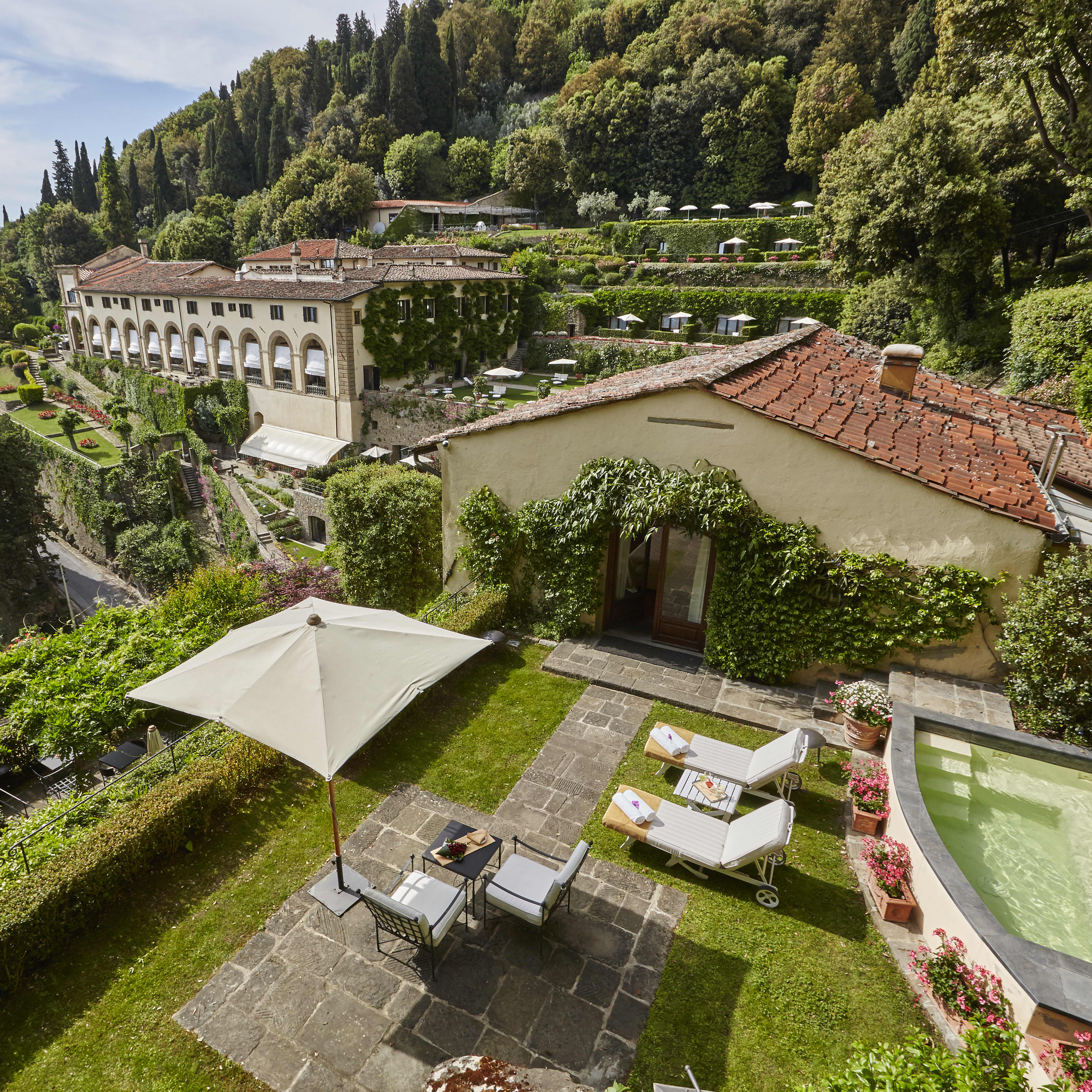 Hidden in the Fiesole hills, Villa San Michele will enchant you with its glorious beauty. Enjoy a fairy tale celebration atop this lush green Italian hilltop. As a former monastery, it is a unique place to get married, your wedding here will indeed have a modern luxury meets Renaissance feel.
Their 900 square meters of indoor space and 20,000 square meters of outdoor space offer many options for a celebration.Villa Corsini a Mezzomonte truly does feel like it was built to welcome you. The estate offers exclusive use of its amenities and facilities to the couple and their guests for an intimate way of exchanging vows.
When searching for the best wedding venues in Chianti, you will find that Borgo Santo Pietro tops many of the luxury venues lists. This gorgeous thirteenth-century villa will not only enable you to have a luxurious and private celebration, but it will also inspire you with its rich, warm color palette. This Chianti wedding venue is also the perfect place for a honeymoon as it offers many relaxing activities to do as a newly married couple. From a treatment at their holistic spa to renting their bespoke Satori yacht to sail the Mediterranean Sea. Borgo Santo Pietro will be your favorite Chianti wedding venue in no time.
The Best Season To Say "I do" in Tuscany
When it comes to a luxury destination wedding in Tuscany, you might want to consider the season you choose to get married. Depending on your preference, you can have your celebration all year round. If you enjoy lots of sun and light breeze, opt to have a summer wedding. Planning your wedding in winter is also possible for mild days, cold nights, and fewer crowds. Last but not least, the spring and autumn season is deemed to be the best as it has a comfortable temperature and fewer people in your Tuscany destination wedding venue.
10 Things You Can Do After Hosting a Luxury Destination Wedding in Tuscany
For your Tuscany destination wedding experience to be complete, you and your guests can savor the beauty of these lands by doing some quintessential Tuscan things. Your multi-day wedding affair or honeymoon can be enriched with the following activities:
Wine and olive oil tasting;
Opt for magnificent cooking classes;
Make your own perfume;
Explore museums and art;
Go to thermal baths;
Do some shopping;
Have a balloon ride;
Immerse into a truffle hunting experience;
Drive along the wine route – from Florence to Siena;
Have a Vespa or Fiat 500 tour/drive around and have a picnic.
In the end, the most important thing that you shouldn't miss out on is to have a photographer with you to capture the spectacular moments of your Tuscany destination wedding. Reach out to me so we can start planning your iconic day!